As from a few posts i've done. I wanted a KP Tour. Mate Glenn had one and I loved the look.. So I tried to buy one.
Apparently, from all sources, they where none in Australia except for a couple of Demo bikes in Melbourne with 4ks on the clock. Not for me.
So I found a Kingpin Low at Rollies Speed Shop in Brisbane and started the customising.
Accept for the obvious changes needed - eg Dual Seat, Top box , Side panners, Front Shield and Pillion boards
We realised the foot boards where 2 inches back from the a normal Tour. The new boards became a pain to get so we used the Victory foot board brackets to move the existing ones forward.
We next added a Tachometer to the dash, Lower wind deflectors, Pillion Hand Grips and raised the Stock handle bars.
Some Decals arrived from USA thats gives it a personal feeling.
Next was the Engine Bars and Highway pegs. 
next upgrade was to a set of Stage 1 pipes to give more performance and a bit better note.
I love the look of the slash cut ends on the pipes..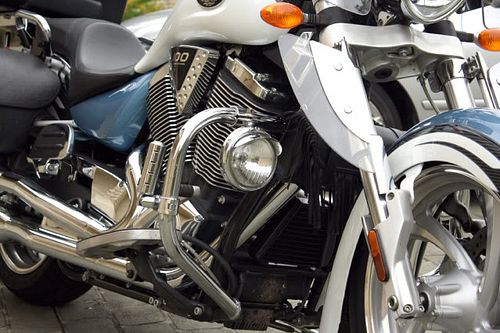 Added driving lights that I got second hand. This should give better lighting at night and also stand out during the day.
Also changed the mirrors to Arlen Ness Tear Drop.. I've found them great out on the highway.
I have also upgrading the rear shock to give more clearence when touring two up and definately need a change to the seat for longer rides.
I have upgraded the Seat for more comfort. The original Victory was too hard and uncomfortable.
Ergo Seats did a great job of redoing the seat.
I love doing Ralleys and getting out for long weekend rides so the next advance was a trailer.
With the touring i'm doing on the Kingpin, communication was needed. So i've now installed a Bikecomm system.
It integrates the GPS, MP3 player, Mobile phone, UHF and Rider to Pillion. It's Great.
I've had the bike since the end of February 2011 and have over  64,000kms on the clock. It's a great bike. 
Rob and the Guys from Rollies Speed Shop Brisbane helped in the transition