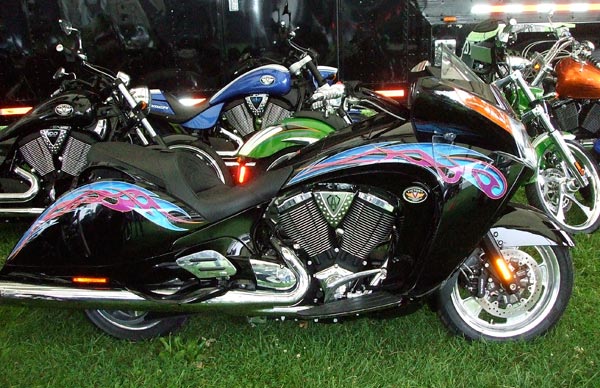 Continuing with my last blog post, there were many things of note at the 2008 AVR. Here are some highlights...
The number of Visions was surprising. For a first-year model, there were far more Visions at the rally than expected. The running joke was that the AVR really stood for American Vision Rally. I lost count at over 50. A quick glance at license plates placed Visions from 10 states. Some as far away as New Hampshire.
Ice Blue was the surprise color on the '09 Models. While at first, some attendees balked at the color, it was tempered with others who commented on its stately persona. Not all ice blue proponents were women. The color did blend nicely with the off-white of the 2-tone Kingpin. Look for it to find its way onto other models in 2010.
Victory did a great job of showcasing its lineage. In the pavilion adjacent to the park, Victory displayed bikes from each year since 1999.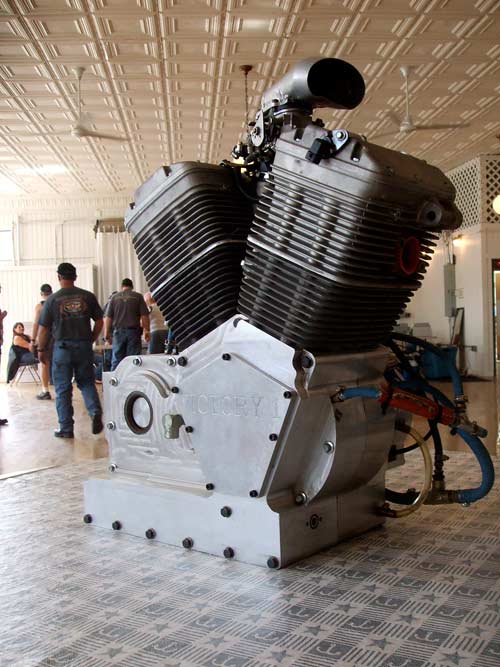 Included in the mix was one of the original v92c development mules nicknamed "Francis". Also on display was an early motor mule, the case of which was machined from a solid block of aluminum. Featured in the 1999 spot was the very first v92c sporting SN#0001. The latest in the lineage was of course the 2009 10th Anniversary Vision.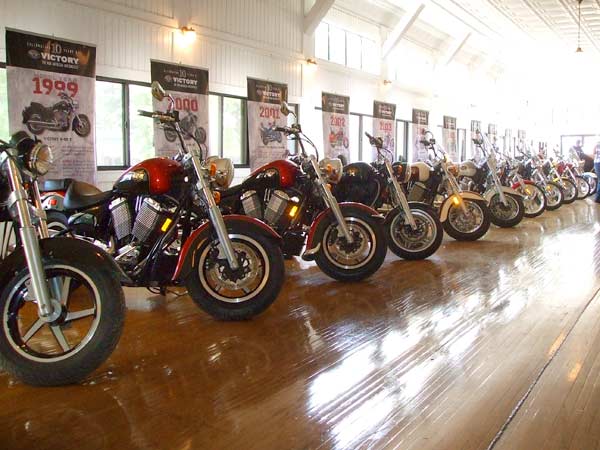 The VMC's bike show, a perennial favorite, featured a slew of custom bikes and new categories. Three cool customs came from rider-vendor-customizer Matt Waring (of MBW Motorcycle Products). His tricked-out Kingpin with a million-spoked wheels, custom paint, and hopped-up motor (from Lloydz Motorworks) caught the eye of Victory VP Mark Blackwell. Matt tossed Mark the keys and the VP wasn't seen for the better part of an hour, only to return with a big grin on his face. Matt's other custom was a radical hardtail bobber sporting a Freedom V-Twin. The out-of-the-box design featured velocity stack rising through the custom gas tank. Also on display was Matt's highly modified Victory that raced the Bonneyville salt flats. Low and lean, with a massive engine (again courtesy of Lloydz ), the bike looked like it was going 100mph just sitting there.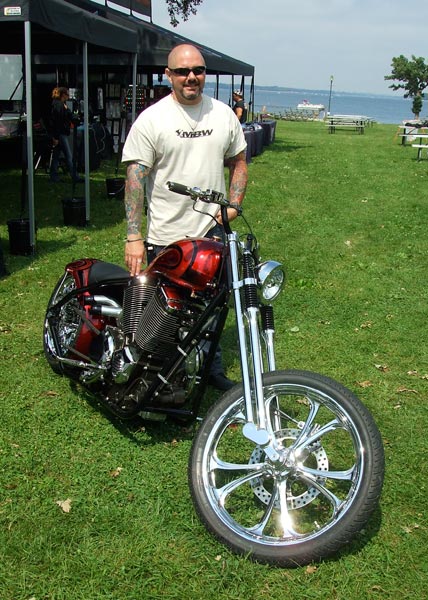 While Lloydz Motorworks is known to many in the Victory community, many were surprised learn of all the high performance parts Lloydz has created. His booth at the AVR was one of the busiest, due to his display of numerous hop-up parts, chrome, and iconic Tshirts. The Bikes. All of them. From across the country. They all came and took part in most agree was the best, biggest, most colorful Victory rally to date. If you didn't make it, your only consolation is that next year promises to be even better.<
...From the road